For a complete course brochure, click here. (pdf)
For information about Exhibitor Opportunities, click here. (pdf)


2008 Robotic Prostatectomy: Expert Panel Review Course
Accelerating the Learning-Curve and Improving Patient Outcomes
What Have We Learned?
June 27-28, 2008
The University of Chicago
Graduate School of Business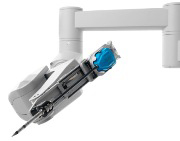 Chicago, IL
Arieh L. Shalhav, MD, Course Director
Kevin C. Zorn, MD, Course Co-Director

Gregory P. Zagaja, MD, Live Case Demonstrator
Course Description:
This course is structured to address all key technical steps of RLRP.
Expert faculty will share their experience and illustrate their individual techniques. Learning-based course highlighted with:
Video presentations, panel discussions and lectures.
Small group, break-out sessions for personalized discussion with faculty.
LIVE robotic prostatectomy cases moderated by our expert faculty
Panelists will also review technical modifications for difficult cases:
Large prostate glands and median lobes
Obese patients
Previous prostate surgery (TURP)
Management of inguinal hernia, penile prosthesis
Previous pelvic radiation, including salvage prostatectomy
As a comprehensive robotic prostate cancer course, discussion will also focus on:
Oncological outcomes and management of high-risk patients
Urinary continence
Sexual function

Keynote - Continence and Sexual Health speaker, Dr. John Mulhall will review current rehabilitation programs to improve functional outcomes.
Keynote - Preventive & Alternative Medicine speaker, Dr. Mark Moyad will overview the impact of lifestyle modifications, diet and supplements in men with prostate cancer.
Course Registration Information:
The course fee includes all course materials, breakfasts, lunches and transportation to & from the Sheraton Chicago Hotel.
Physician: $675
Nurses, Pas, Administrators and Allied Health Professionals: $300
Residents & Fellows: $250